Linda Drevenstedt is the Ideal Speaker for Presentations with Meaningful Content and a Powerful Delivery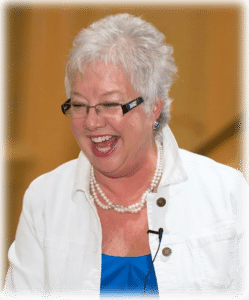 You want a powerful, dynamic speaker who has both substantial content and an engaging style, and that's what Linda Drevenstedt delivers. Audiences rave about her ability to interact, entertain and make them think, all at the same time.
Learn more
Bio
Linda Drevenstedt nurtures, explores and seeks life's "Aha" moments, challenging her coaching clients and audience to cultivate their potential. Linda has run a highly successful consulting firm for over 20 years. Her Steel Magnolia wit and wisdom has helped her coaching clients move through barriers to great success.
Before starting her own consulting and coaching business, she was a dental hygienist and a dental practice administrator. Her background also includes a Master's degree in Health Care Administration and a Bachelors' in Business Management. She has studied life coaching with Sylvia Sultenfuss, Bill Lammond and Patrick Harbula.
Topics
The Art of the Question
Content: Motivation is a key ingredient for life success and satisfaction. "The Art of the Question" delves into the keys that both motivate and cultivate the potential inside each person. This uplifting session will leave you with a new look at where you are and where you can go.
Key Points:
Who is in charge of your motivation?
How do you get yourself motivated after a bad turn?
What's the secret to staying motivated?
What are ways to be motivated to make changes that people in my life don't like or agree with?
A keynote of 45 – 60 minutes
Handling Conflict With Finesse
Content: Conflict creates stress and reduces productivity. Conflict can also create stress in our personal lives. You will leave this course with breakthrough strategies to handle conflict and reduce stress with finesse at work and at home.
What you will learn:
Discover the Magic of Motivation in conflict.
Understand how Behavior Styles influence our conflict response.
Learn Key ways to handle conflict.
Find out just how your brain works in conflict.
Learn the "Courageous Conversation" process.
A training session of 3 – 4 hours or a keynote of 45 – 60 minutes.
7 Brain Principles that Maximize Effectiveness™
Course content: Knowledge about relationships is the currency of the new economy. The bottom line performance of any business or career can be linked to developing emotional intelligence. This session gives you new insights and opportunities to increase your personal effectiveness.
Highlights include:
Newest science showing the influence of emotional intelligence in your success
Emotional intelligence links to job performance
Emotional intelligence and stress
Understanding and improving self-awareness
Self-management and our brain mechanics
Social awareness and relationships
Steps to improve your relationships at work and at home.
3 – 4 hour workshop or a keynote of 45 – 60 minutes
Note:
Other topics can be customized for a conference theme or event. Give me a call: 800.242.7648 or e-mail me
[email protected]
What Others Are Saying…
"Linda has spoken for both the Texas Dental Association as well as the American Academy of Dental Practice Administration and I found her to be a motivating and captivating speaker. I found that Linda connects with the audience extremely well, always has innovative ideas to share. She delivers meaningful information that can be put into practice immediately. She also poses powerful questions that leave you thinking long after her programs are over. She is one of the most practical and informational speakers today."
Dr. Matthew Steinberg, General Chairman Texas Dental Association, Program Chairman American Academy of Dental Practice Administration Meeting
"WOW! You were fabulous. I cannot adequately express just how much I appreciate your speaking efforts in words. … your session surveys are super. I know how hard it was to place so much material in such a short presentation, but you managed it beautifully. Thank you for your professionalism when dealing with delays and deadlines with such a high-impact meeting."
Dr. Dale Kennedy, American Academy of Dental Practice Administration Annual Session
"Linda is a very good speaker. She's energetic and full of enthusiasm. Her relevant, practical content keeps the audience engaged. She's a true professional, very organized and very easy to work with. I definitely recommend her."
Dr. Bruce Justman, American Association of Endodontists
"I usually don't attend these seminars because I attend the scientific seminars. However, it was the most informative seminar I sat through at this meeting."
Dr. Charles Evans., Cranston, RI
"Thank you. Very interesting. You know your stuff."
Dr. Charles Foster, Utah Dental Association
"Good mix of participation and information covered all material in handout. Energetic and fun."
Dr. Marshall Myers, Tucker, GA
"Energetic, easy to listen to. Great responses. I have already started planning a time to get together to implement new ideas we learned."
Dr. Amanda Conti, Kennesaw, GA
"Never boring!! Awesome content."
Dr. Donna Moses, Periodontist, Carrolton, GA
Prior Engagements
ADP payroll services users meeting
Beta Sigma Phi Atlanta Chapter meeting
DeKalb County Leadership Conference
Richmond Dental Society, Richmond, VA
California Dental Expo
American Dental Association Annual Session (3 years)
Hinman Dental Meeting (7 years)
American Association of Dental Office Managers (2)
Academy of General Dentistry Annual Session (2 years)
American Academy of Dental Practice Administration (4)
American Association of Dental Office Managers (2)
Greater Kansas City Dental Society
Chicago & Denver Mid-Winter Meeting
Yankee Dental Meeting (Three years)
Greater New York Dental Meeting
Academy of Pediatric Dentistry Annual Session (Three years)
Western University School of Dental Medicine
Utah (2), Georgia, Alabama, Kentucky, Indiana, South Carolina, Texas (2), Florida (2) and North Carolina Dental Associations
Star of the North Meeting
Colorado, Alabama & Georgia Academy of General Dentistry
Mid-South Dental Congress
Columbia Dental Society – Columbia, MO
Southern District of the American Academy of Implant Dentistry
Academy of Dental Group Practice Annual Session (2)
Nashville Dental Society
Dental Systems, Inc.
Valley District of Massachusetts Dental Society
Asheville North Carolina Study Club
Henry Schein Business of Dentistry Conference
Specialist's Appreciation Seminars for Periodontists, Oral Surgeons and Orthodontists
Upcoming Engagements
Appreciation Seminar for Drs. Waugh and Allen, Athens, GA
Ventura Center for Spiritual Living