…shows you how to design your own charmed life. This book shows you how to become your own coach. Chapter by chapter, process by process, tool by tool, meditation by meditation, you'll discover the steps that allow you to whittle away at any barriers or boundaries that are keeping you from a fulfilling life, a purpose driven career or vocation and enriching relationships. The life of your dreams is just around the corner, waiting for you to move into the driver's seat. Hold on to your highlighters and page flags; you are about to receive many "aha" moments and a firehose of useful information for the journey back to your authentic self with
Life Path by Design.
[/span6][span6]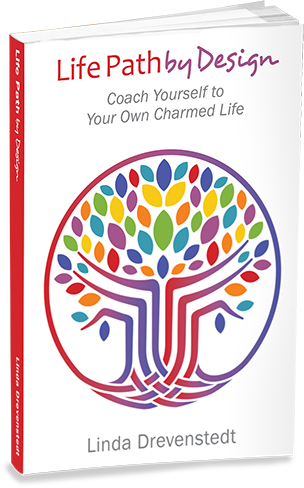 [/span6][/columns]

The Buzz
"Linda's book is both easy to read and elegantly practical! The easy-to-practice exercises make this a must read for anyone wanting to create their charmed life."
– Rev. Dr. Patrick J. Harbuola D.D., Author of The Magic of the Soul: Applying Spiritual Power to Daily Living
"Linda's down-to-earth yet profound words will help you uncover your best self. Especially useful are the tools she provides to offer insight and inspiration. This is a generous book, poised and ready to help you live your abundant goodness."
– Rev. Bonnie Rose
"Linda has walked a life path of experience, trial and error, with a conscious commitment as a life-long learner. Linda is passionate about making a difference in other's lives and brings her practical and realistic guidance and tools providing to you an on-going partnership along your life journey."
– Sylvia Sultenfuss, Transformational Coach
About the Author
Linda Drevenstedt nurtures, explores and seeks life's "Aha" moments, challenging her coaching clients to cultivate their potential. Linda has run a highly successful consulting firm for over 20 years. Her Steel Magnolia wit and wisdom has helped her coaching clients move through barriers to great success.
Before starting her own consulting and coaching business, she was a dental hygienist and a dental practice administrator. Her background also includes a Master's degree in Health Care Administration and a Bachelors' in Business Management. She has studied life coaching with Sylvia Sultenfuss, Bill Lammond and Patrick Harbula.
Linda has co-authored two books and is in the process of writing her own book, available in March 2016, Life Path By Design.
When Linda coaches or speaks, people experience "Aha" moments, and take home practical action steps to cultivate more potential in both their home life and occupation.
Linda is a 15 year professional member of the National Speakers Association, serves as treasurer for the National Association of Women Business Owners' Ventura chapter and is a member of the American Association of Dental Office Managers and the Academy of Dental Management Consultants. She is certified as a Talent Smart Emotional Intelligence trainer and is an Everything DiSC® authorized partner.